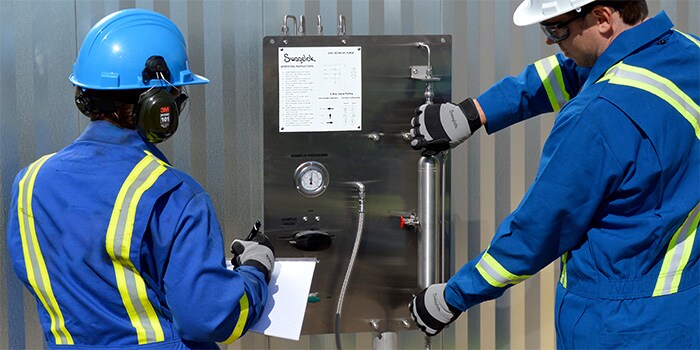 Accessible Grab Sampling Support
When you decide to invest in Swagelok® grab sampling panels to bring standardization and reliability to your sampling operations, your local authorized Swagelok sales and service center team will work with you to determine the right type of panel and the proper configuration to meet your needs. Each grab sampling panel will then be built to your specifications at your local Swagelok sales and service center by experienced fluid system specialists, and the same team will provide ongoing support for your new system in the future.
REQUEST MORE INFORMATION ABOUT GRAB SAMPLING
What to Expect When Ordering Swagelok Grab Sampling Systems
The process of identifying, customizing, and maintaining the right grab sampling solutions for your facilities looks like this:

Assess
Want assistance finding a system design that will yield repeatable, representative samples quickly and cost-effectively? A team of sampling specialists can evaluate your current sampling system and assess your needs as necessary. If you already have a specification or design in mind, you can skip this step. Alternatively, if you would like an even deeper analysis of your sampling systems and practices, our field engineering team can visit your facilities to provide Swagelok® grab sampling evaluation and advisory services that help you detect and fix sampling deficiencies, yielding:
Improved operational performance
Mitigation of potential safety and environmental concerns
More representative samples on a regular basis

Recommend
Our team will take you through a checklist of details to help you select a sampling panel that meets your needs. Based on the established parameters, a certified Swagelok engineer will review your information and recommend the right panel for you. We evaluate criteria including:
Temperature
Pressure
Phase
Container type
Materials of construction
Installation location

Configure
Using our standard panel designs as a platform, we can work with your team to customize your solution:
Substitute comparable Swagelok and non-Swagelok products
Add valves, flowmeters, and other products within the existing schematics
Make changes in layout and structural changes/additions
Convert to larger/smaller tube size (or metric)
Suggest alternative materials of construction
Discuss flow/pressure drop calculations
Suggest sizing of sample coolers/heaters and enclosure heaters

Assemble
We take the work of sampling system assembly off your team, fabricating the system and testing for reliability. Every local Swagelok technician undergoes comprehensive training and certification to ensure your sampling panel adheres to strict guidelines and to your specifications, and our certified engineers will monitor each step of the process.
Every Swagelok grab sampling system is shell-tested at the selected gauge pressure
Additional testing is available upon request
All Swagelok products are backed by the Swagelok Limited Lifetime Warranty

Train
We provide hands-on training on grab sampling system use and maintenance for your technicians once your panels are assembled. We can also equip your team with the knowledge to prevent, diagnose, and eliminate costly issues with Swagelok® sampling system training based on the teaching of industry expert Tony Waters:
Trust an Industry Leader in Sampling. Trust Your Results.
Learn more about the benefits of Swagelok grab sampling solutions and how the right local support by sampling system specialists can provide value to your organization.