Grab Sampling Panels for Gas and Liquid Non-Slurry Service
Configurable, Local, Reliable Grab Sampling Assemblies
We offer fully configurable, locally built and supported, and reliable grab sampling assemblies in a variety of configurations with advanced features intended to help you safely capture representative samples of liquid or gas from your process lines. Whether you want closed-loop sampling into pressure-rated sample cylinders or simply want to collect process fluid into lower-cost glass laboratory bottles for analysis, we offer ideal sampling panel options that are safe, intuitive, easy to maintain and can be ordered as a single part number.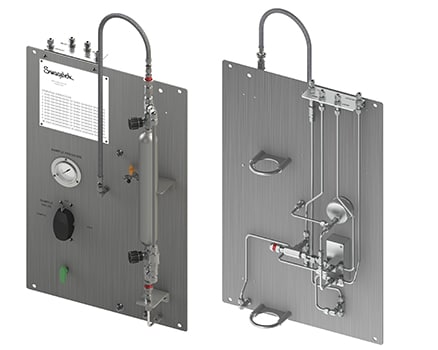 Grab Sample Module
The Swagelok® grab sample module (GSM) is a closed-looped sampling system that pulls from a positive-pressure process and returns back to the process at a lower pressure location (e.g., upstream of a pump) by using differential pressure to drive the fluid through the system. Samples are deposited into durable, pressure-rated metal grab sampling cylinders (GSC) that prevent the sample from escaping, protecting operators.
Features of the GSM
GSM panels feature a switching valve configuration with two or three Swagelok

®

40G series ball valves, allowing for simultaneous control of fluid routing. These configurations reduce the number of steps required and give a clear indication of sequencing, reducing the likelihood of errors.
A GSC is docked and process fluid is continuously circulated within to maintain process conditions. A GSC—available in various configurations—is required for every GSM system and should be ordered separately when purchasing a new GSM.
The circuit draws a flow path that connects to the sampler then returns to the process or flare. The GSM can be left in the bypass or sample position indefinitely, keeping transport lines fresh and ready for sample capture.
A rupture disc is an available option for every GSM system, and a relief valve can also be added to sampling systems where there is added overpressure concern. Each sampling system is built with Swagelok

®

tube fittings to reduce potential for leaks.
VIEW CATALOG: LEARN MORE ABOUT THE SWAGELOK GSM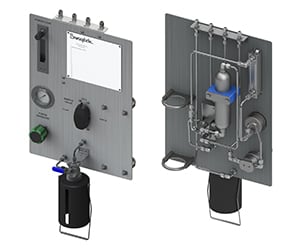 Grab Sample Liquid Systems
The Swagelok® grab sample liquid (GSL) is a liquid-only sampling system for drawing fluid into a non-pressure-containing bottle with a self-sealing septum cap in applications where the process fluid is not at risk of fractionating when stored at atmospheric pressure.
Features of the GSL
Fixed-volume Swagelok GSL systems use the same switching valve as a GSM system to provide simplified operation for complex tasks. Like the GSM, GSL systems are assembled with Swagelok tube fittings to avoid the potential leak points of NPT fittings.
The GSL can use lower-cost glass or polyethylene laboratory bottles to draw and store samples. Using bottles provides immediate feedback on the visual quality of the sample stream.
Samples can be drawn and transported without the risk of spillage or evaporation. A spring-return handle on the sample drawing mechanism prevents unintentional dispensing.
VIEW CATALOG: LEARN MORE ABOUT THE SWAGELOK GSL
Convenient Standard Assemblies Configured to Meet Your Needs
Both GSM and GSL sampling systems panel types are available in fixed-volume versions that separate the process pressure from the sample bottle and user, preventing over-filling and overpressure conditions. This table provides a summary of common system criteria and the grab sampling system recommended for the listed combinations.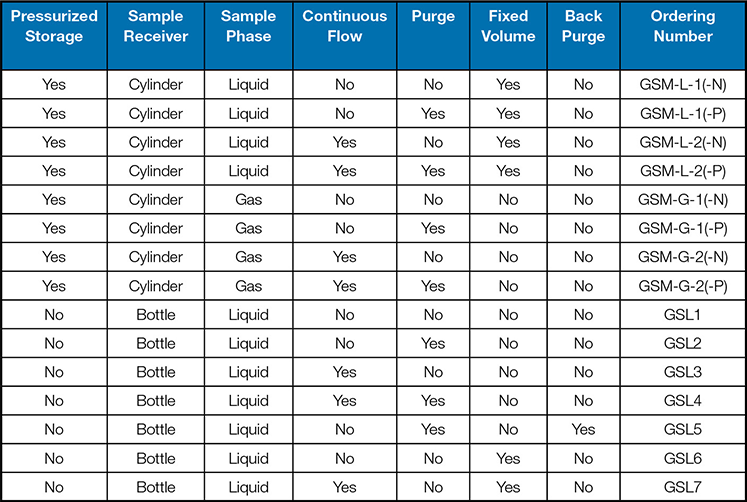 Swagelok grab sampling systems can also be customized with a variety of accessories to suit your operations, including:
Additional instrumentation (gauges, flowmeters, and transducers)
Sample coolers
Process connections (threaded and flanged)
Enclosures and stands
Automation
Exotic alloys (certain components are available in alloy 400, alloy C-276, or alloy 600)
Outage tubes
Nonrotating stem needle valves
Rupture disc units
Relief valves
Carrying handles
BROWSE THE GRAB SAMPLING PRODUCT CATALOG
Local Assembly and Support. Reliable Solutions Built to Last.
Your local authorized Swagelok sales and service center team will work closely with you to determine the type of panel and the proper configuration to meet your sampling system needs. Each grab sampling panel will be built to your specifications at your local Swagelok sales and service center by experienced fluid systems technicians. All Swagelok grab sampling assemblies are rigorously tested and are backed by the Swagelok Limited Lifetime Warranty.
CONTACT US TO FIND YOUR IDEAL GRAB SAMPLING SOLUTION