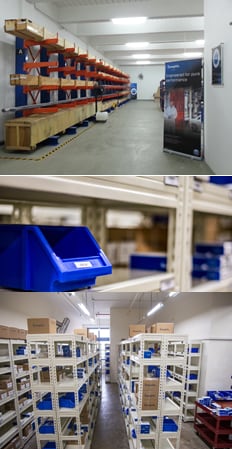 There are many other important aspects to successful logistics operations for customers of Swagelok. We pride ourselves in the lengths we go to ensure we provide high quality, clean, traceable, certified, genuine Swagelok products.
We now hold many, many kilometers of stainless steel tubing(and some other alloys and metals) in both of our warehouse facilities. Every piece of tubing stocked is sourced from Canada or Sweden, has full 3.1 material traceability and is covered by the Swagelok Limited Lifetime Warranty. Tubing availability is important to you and, recognizing this, we are increasing our commitment all the time.
Using our Warehouse Management System (WMS) we are able to trace every one of the thousands of parts that are shipped to customers in Indonesia every week. We use barcode scanning to record every part movement and each Swagelok carton or box has a unique batch number so that we can trace which customer received it and when and where it was originally made. Every product that we supply is covered by the Swagelok Limited Lifetime warranty as well as other material certificates (2.1, 2.2, 3.1 and more) on request.
Our warehouses are kept spotlessly clean, free from dust, contamination and damp. We use random bin locations and double-blind checks to ensure that we do not miss the correct quantity or provide you with an incorrect part number. We are constantly doing stock checks to ensure that no mistakes are made and along with CCTV, security personnel and other alarm systems to safeguard our stock, we will soon implement CCTV on packing benches to capture the packing process itself.